Registration now open for the 2021 VIRTUAL Hidden Gems High School Fair!
SUNDAY, SEPTEMBER 26, 2021 FROM 1-4PM
LIVE Q&A AT VIRTUAL EVENT + PRE-RECORDED CONTENT PRE & POST EVENT
$15 for the whole family, and fee waivers are available upon request.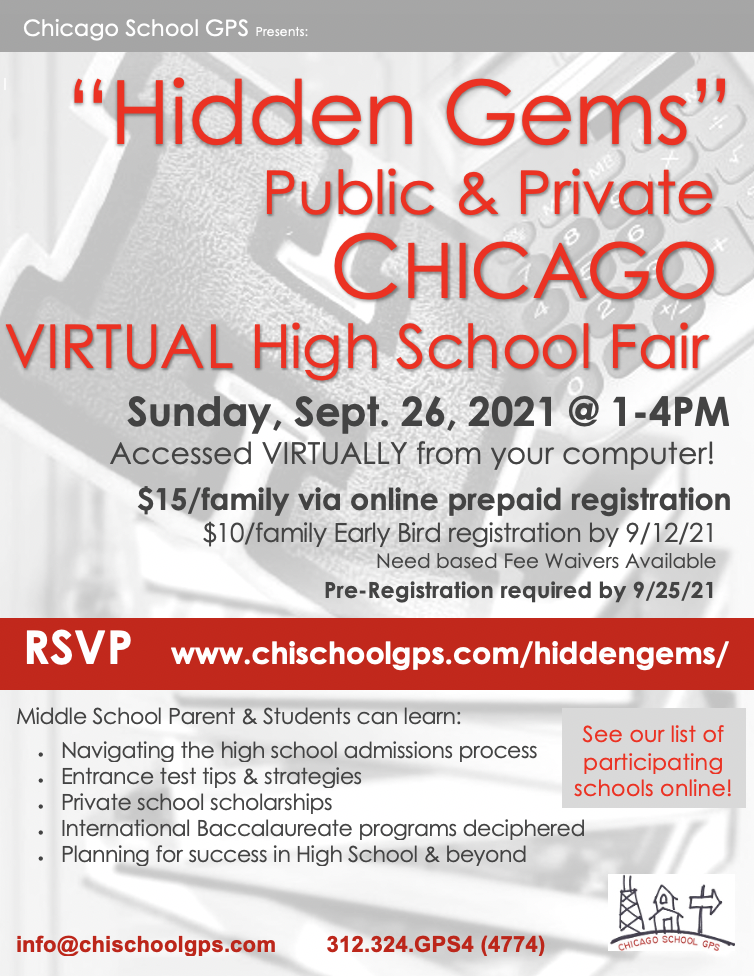 ---
Knowing how to cast your net wide and increase your options is KEY to a successful Chicago high school search. Join Chicago School GPS as we bring together over 35 participating schools, each with unique qualities that you may not have known about prior to coming to our Hidden Gems Fair. PLUS, you can meet helpful resource vendors and partake in informative breakout sessions that will give you clarity on the high school process. Join us for an afternoon designed to make your high school journey a successful one!

Program begins at 1pm with high schools showcasing what makes them unique, and breakout sessions begin at 2:00pm. Fair ends at 4pm.
Our invaluable breakout sessions offer insights for Middle School Parents and Students on topics such as:
Navigating the private & public high school admissions process
High School Entrance Exam Insights (includes SEHS, HSPT & ISEE)
Private school scholarship opportunities & resources
International Baccalaureate Programs Demystified
Executive Functioning Strategies
Thank You to our generous 2021 Presenting Sponsor: