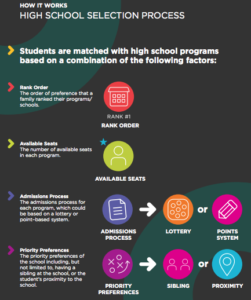 From GoCPS:
HIGH SCHOOL RESULTS RELEASED ON FRIDAY, MARCH 30, 2018
Round 1 high school results will be released to families on Friday, March 30, 2018. If the student applied online, results will be posted in their online GoCPS account. If they applied with a paper application, a notification letter will be sent to the primary address on their application via U.S. mail. In addition, an online GoCPS account has been opened for each paper applicant, and their notifications will be posted there as well.
Families will have until Friday, April 13, 2018 to accept of decline offers. To view a full timeline of steps after offers are posted, visit the GoCPS home page and view our updated Important Dates section.
The link above has tabs for Non-Selective and Selective Programs and videos explaining the process, etc.
Here is a 45 page .pdf version of all the CPS High School info and helpful FAQs.
Here is their timeline:
Round 1 Applications
AUGUST 2017
Application Account Activation Open
OCTOBER 10, 2017
Application Period Begins
DECEMBER 22, 2017
Application Period Ends
Round 1 Offers
MARCH 30, 2018
Round 1 – Offers Posted
APRIL 13, 2018
Round 1 – Accept/Decline Deadline
APRIL 18, 2018
Round 1 Waitlist Process Opens
48 HRS AFTER OFFER POSTS
Waitlist Accept/Decline Deadline
---
Round 2 Applications
APRIL 30, 2018
Round 2 Opens
MAY 4, 2018
Round 2 Closes
Round 2 Offers
JUNE 1, 2018
Round 2 – Offers Posted
JUNE 8, 2018
Round 2 – Accept/Decline Deadline
JUNE 13, 2018
Round 2 Waitlist Process Opens
48 HRS AFTER OFFER POSTS
Waitlist Accept/Decline Deadline